Title:
Sea to See Island - June 2023
 I am honored and thrilled to be represented by the City of Richmond Public Art Campaign 2023. 
Media

:
My artwork are hand-painted using Google Tiltbrush in virtual reality. 
I spent many years in Richmond BC and am so proud of the Foodie culture that has taken root.
We boast some of the best sushi restaurants in the world and our world-class chefs attract
visitors from all over the globe hungry to order everything from east indian to southeast asian
delights. The Richmond Night Market is a mecca of unique and multicultural foods while little
hidden pockets around Steveston Village offer delicious eats. My father pursued his dream of
owning a Marvellous Muffin business in Richmond so when the City of Richmond invited me to
create public art for them, I knew exactly what I would portray.
My art depicts what happens in an alternative universe where the creatures from the sea at the T&T location rise up from the oceans and invisible fly, crawl or swim across the street to the sushi restaurant where they partake in culinary delights!
1)
Red Box
: in front of T&T Supermarket is covered in bright images of herons, fish, spot prawns, crabs and salmon. You can see all of these animals in and around the city especially during specific seasons. 
2)
Purple Box: 
across the street in front of the sushi restaurant depicts the creatures preparing to celebrate the various international meals. ex. German pretzels, French onion soup, Malaysian satays, noodles, pizza and many more delectable delights.
We are a FOODIE island and it's WONDERFUL!
 I chose vibrant colors to serve as points of geographical interest. Red and orange/yellow hues are the predominant colors associated with FOOD so naturally, that's where I began.
Huge thanks to the City of Richmond for inviting me to bring joy, awe and wonder to your city!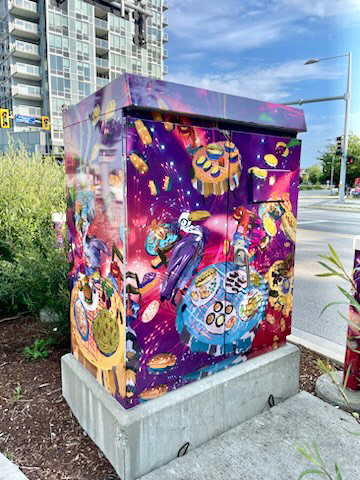 "a sense of joy exudes from these boxes. I felt like a kid again!" - R. Chung 
"No two sides are alike! Juliana, you truly are an artist! Just WOW!" - J. Schwartz 
"Foodie Eats that celebrate what makes our island special" - SJ. Singh 
"Humble and truly talented. Such rate traits these days. The hardest worker I know" - A. Kazoo