Custom Mask and design for the Carnival Jouvet (West Indian Culture Celebration)
** the FIRST mask in altspace to be created in tiltbrush using an MRE (Mixed Reality Extension)
As part of my personal initiative to celebrate diversity, I created a custom-designed mask for new client Event Producer "Cha-Boogie" in Altspace. This mask was carefully painted in google tiltbrush and then transformed into a wearable MRE (
Mixed Reality Extensions)
 in altspace by my Creative Technologist friend Nicholas Liang. 
The mask was designed to celebrate the annual

West Indian Cultural Celebration

in Altspace VR. The art direction called for something beautiful and dramatic. I knew that it had to be impressive so I added special details and designed for a combination of elegance and beauty. This mask made it's debut in early August main showcasing Cha-Boogie in all of her West Indian-styled finery.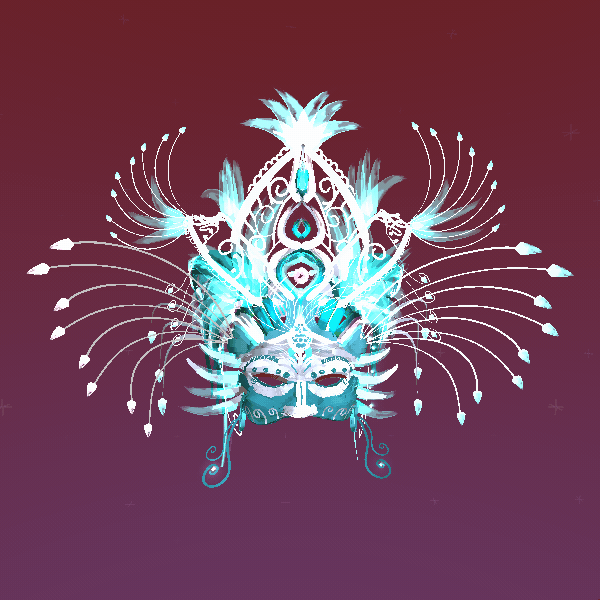 Although I really liked the silver mask, I chose the gold color instead after noticing that the client looked better in warm tones as opposed to cold. I paid special attention to the jewels in the crown and the detail around the lattice ensuring that each piece was unique in its own right. 
Note: When designing in tiltbrush with a combination of 'animated' versus 'still' brushes, the temptation especially for a lot of newbies is to design with more motion. I've discovered that using the motion brushes sparingly actually accentuates the architectural design of the piece and highlights the main focal points.
The gold color (18 karat gold) looked much better against the client's mocha complexion. Also, the headdress shape and turquoise combination fit perfectly with her natural afro hairstyle. (avatar in altspace) I was very pleased with the results and the show was the best venue to express such a beautiful piece of wearable artwork.
To test the mask out, I asked different friends with various hairstyles and skin/hair colors to see if the dimensions would work with all the avatars. After receiving feedback, I was able to design a base template that would fit the rest of our avatars.